When I started to knit I ended up with a big yarn stash, which I'm not sure I will ever be able to use up in my lifetime. It fills up a big bookshelf, an almost as big drawer and some boxes as well. We don't have the biggest apartment so we need every bit of spare space we have. And now I have taken up half of our basement storeroom with yarn, and our living room are starting to look like a sewing room. I think I must have the most patient boyfriend ever. For that reason I'm trying to use up some of my fabric stash, before his patience runs out.
And since I have been eyeballing the new Zadie dress from Tillys for a while, I thought it would be the perfect opportunity to use up some of my fabric. I let the fabric onto the table and had a look.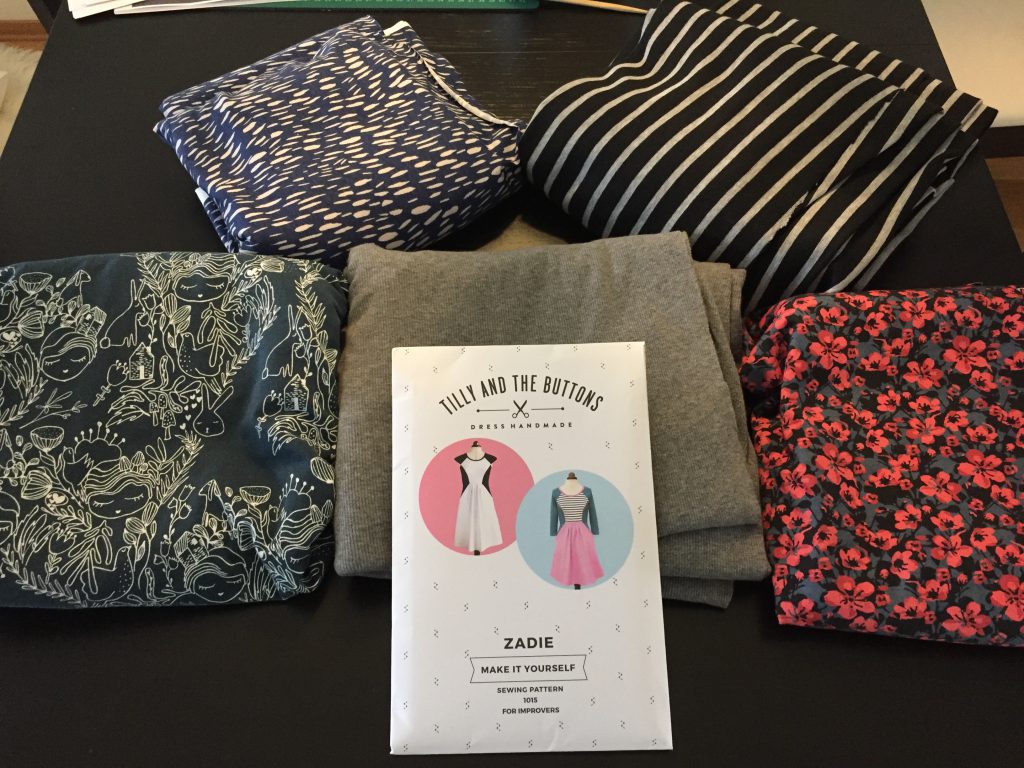 I decided to go for the flower print, and just buy some black for the panels, which I easily could buy online to avoid all the temptations in a fabric store. But when I lay the pattern over the fabric I didn't have enough fabric, I needed more of the same sort.
So you know I ended up in the fabric store anyway, and don't you know that I fell for the temptation and bought some beautiful fabric I thought would look even better as a Zadie dress then the one I already had? 🙂
Only to get home, and realize that the fabric I just bought didn't have enough stretch in it.
So I was back to the beginning, and couldn't go back to the fabric store yet again. I had to go for something I already owned. I cut out the front & back bodies, pocket facing, front & back skirt in some black and gray fabric. And the arm, side back & front panel, and neckband in some plain gray. Perhaps I should have cut the colors the other way around, but the gray fabric is much lighter than the striped one, and I wasn't sure it would have held the skirt in place.
I made a FBA even though the fabric is stretchable. I have quite a full bosom, so when I was going to stitch the pieces together they had been adjusted to much and wouldn't fit together any more.
The finished result is okay, but it could have been better if the fabric was in the same weight, and the FBA had worked better. Even so I will be dancing in my Zadie dress until the next time we meet.